When it comes to art auctions, there are two major seasons for the collectors interested in purchasing an artwork - May and November. Furthermore, there are two major players, Christie's and Sotheby's, with an occasional mention of Phillips and Bonhams. All of these houses make the best of their sales in the city of New York, where one could also see the Impressionist, Modern, Post-War and Contemporary artworks in exhibitions, before they go under the hammer and disappear in (usually private) collections.
Like any other market out there, the art one has also had its ups and downs, but with the just-finished May auction week, it would seem that the $2 billion worth of art sold is quite the reassurance of stability and even prosperity. The numbers exceeded the ones of 2018 (although not by that much), contributing to the fact that art is very much perceived as commodity. Why there's an increasing interest to take part of the Art Environment? Contemporary Art as a recent massive trend...
Yet again, the list of the most expensive artworks has changed following these auctions, although "Salvador Mundi" remains the absolute ruler of it. Claude Monet's "Meules" became the priciest artwork of the week, selling for $110 million at Sotheby's, yet the spotlight certainly belonged to a rabbit, for a change made by a still living artist. Inspired by this particular work, we take a look at other pricey pieces made by those who are still out there making art, the stories behind them, and the staggering amounts of $$$ they sold for over the course of the past decades.
Gerhard Richter, ABSTRAKTES BILD
An impressive display of color, texture, structure. Sized three-by-two-meters, this mesmerizing painting by Gerhard Richter is one of the finest examples of abstract art, and its intention to illicit the strongest of feelings through its accentuated non-representation. It also marks the beginning of an exciting period for the celebrated German artist, whose series of "Photo Paintings" preceded this work and introduced us to a kind of art-making based on photographs, but in a quite original way. Perhaps what subsequently led to the "ABSTRAKTES BILD" is Richter's signature "blur" always featured within the "Photo Paintings", a smear created using a squeegee, which is what he also used for this artwork.
Discover the 51 Most Popular Contemporary Artists!
But in "ABSTRAKTES BILD", we do not only see the "blur" - we see an explosion of colors, blue, red, yellow, green, splashes and brushstrokes alike, a dazzling composition reminiscing of Claude Monet's 1920-22 "The Rose Path at Giverny" or Franz Kline's "Abstract" from 1947, as noted by the Sotheby's auction house, who sold the painting for $46 million in their 2015 sale in London. Helping the painting to go over its high estimate of $25 million was certainly the fact that this work was described as one of Gerhard Richter's personal favorites within his own oeuvre, and that he insisted on loaning to the Museum Ludwig in Cologne during the 1990s as well. Like other ABSTRAKTE BILDER in the series of abstractions created between 1985 and 1989, this example too floats somewhere between the American Abstract Expressionism and German expressionist painting, spanning the color palette practically in its entirety with every example. Previous to the number 599, of which we are talking about in this paragraph, other paintings from the period were also successful in selling at much higher prices than their estimates - British guitarist Eric Clapton sold his piece in 2012 for $34 million, ten times what he paid for it in 2001.
Jeff Koons, Balloon Dog (Orange)
In 1917, Marcel Duchamp stunned art academics and audience at large when he proposed that a urinal be considered a work of art. Perhaps this was also the idea behind the "Celebration" series made by Jeff Koons - "regular", festive objects turned into shiny, monumental sculptures. But what differentiates the two famous artists is that Koons is very meticulous and thorough, which explains why these artworks took almost all of the 1990s to be made. If you want to know something more about the Marcel Duchamp disciples, jump to Why you couldn't have done that!
Indeed, the "Celebration" series featured everyday items such as hanging hearts, diamonds, eggs and balloon shapes, among others, blown out of proportion (quite literally) and polished to perfection. This is also the case with "Balloon Dog (Orange)", one of five unique sculptures that still holds the spot of the third most expensive artwork by a living artist today. It fetched $58,4 million at Christie's New York back in 2013, courtesy the renowned art collector Peter Brant who then joined the roster of big names owning the "Balloon Dogs" - the yellow version is owned by Steven A. Cohen, The Broads have the Blue one, the Magenta is with François Pinault, while Dakis Joannou's DESTE Foundation is home to the Red version. Speaking about François Pinault --> Venice 2019| PradaVsPinault...
"Balloon Dog (Orange)" is three meters tall and weighing, believe it or not, one whole ton. Its mirror-polished stainless steel is impeccable, reflecting the color in the most immediate of ways. Koons' attention to detail is strong with this one, as it is clear that the precision used in the creation of the work was on a very high level. As many as 60 parts were welded together to become one seemingly flawless structure. This piece certainly still stands as one of the most recognizable artworks of contemporary art.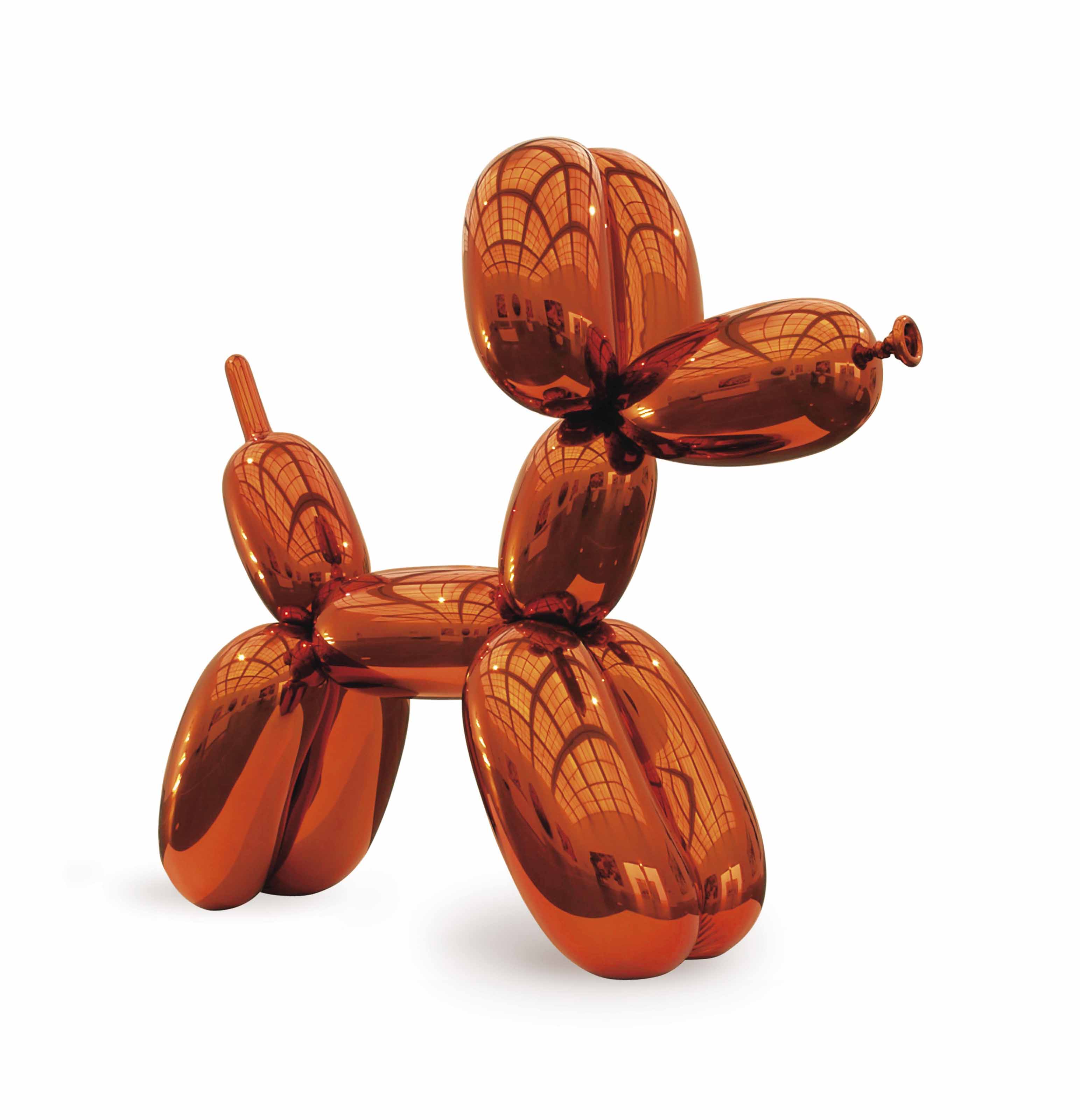 David Hockney, Portrait of an Artist (Pool with Two Figures)
David Hockney's reign as world's most expensive living artist only lasted a little over six months. His 1972 "Portrait of an Artist (Pool with Two Figures)" was sold for $90,3 million at Christie's auction in New York in 2018, still so close behind the new most expensive work on this list, following below.
This artwork too can be considered one of the most beloved ones today, especially since it combines two of Hockney's strong sides - depictions of pools, and double portraiture. In fact, the fully clothed figure standing above the pool and looking into it is Peter Schlesinger, Hockney's lover and his favorite muse. In 1971 their relationship ended much to the artist's great disappointment, which suggests that this painting is a sort of a farewell, a poignant portrait of a devastating breakup: Peter's figure is in a different world compared to the man diving in the pool, and this is where their ways part.
The painting was made on the basis of two different photographs joined together, and it is actually the second canvas dedicated to this composition; the first was abandoned by Hockney in 1971. Since its inception, "Portrait of an Artist (Pool with Two Figures)" was on view in numerous exhibitions in renowned institutions. Hockney said of the painting:
"I must admit I loved working on that picture, [...] working with such intensity; it was marvelous doing it, really thrilling."
Jeff Koons, Rabbit
And so here it is, the big winner of the New York auctions of May 2019, and officially the most expensive artwork made by a still-living artist, for now. Jeff Koons' "Rabbit" stole all the headlines, thanks to the $91,1 million it was sold for at Christie's auction, becoming the second piece by this controversial figure on this list.
Considerably smaller than the aforementioned "Balloon Dog", "Rabbit" is however just as astonishing - a child's toy elevated to an artistic level using impressive technique; the wrinkles and creases of the inflatable original are most faithfully reproduced. Like many of Koons' artworks, this one too has been causing a debate on whether it should be considered an artwork or not (in 1986, critic Roberta Smith called it "a dazzling update on Brancusi's perfect forms" even), while some claim that it simply doesn't matter. What's interesting is that the "Rabbit" almost was a "Pig", as the artist couldn't decide which animal to pick.
The proud owner of this glossy work appears to be Robert E. Mnuchin, the famous art dealer, once more reaffirming Jeff Koons as the billionaires' favorite, in auctions and outside - the work previous belonged to the collection of deceased publishing mogul S.I. Newhouse. The grand sale also seems to have come at a perfect time for the artist's market, as it has been stagnating since 2014.
Stay Tuned to Kooness magazine for more exciting news from the art world.