---
Table of Contents
---
And the trophy for the most expensive art piece goes to: The Mona Lisa.
Related articles: Top 10 most expensive artworks sold in 2020 - Top 5 Art Books to read - 4 Most Expensive Artworks by Living Artists
Have you ever wondered how much Leonardo da Vinci's The Mona Lisa is worth today?
The price of the world's most famous painting - which continues to draw large crowds of visitors to the Louvre in Paris - is literally "insane". The Renaissance masterpiece is considered priceless: its cultural value is impossible to translate into a monetary value. The Mona Lisa is believed to be worth more than $850 million, taking into account inflation. In 1962, it was insured for $100 million, holding the Guinness World Record for highest ever insurance value in the art market (corresponding to $870 million in 2021).
But while this Da Vinci's masterpiece is on permanent display at the Louvre Museum in Paris, there is another Da Vinci's artwork, "Salvator Mundi", which has instead been recently sold. In 2017, the painting was sold for $450 million to the Crown Prince of Saudi Arabia Mohammed Bin Salman. Such a world record price was settled upon at Christie's in New York, for an artwork which now might be "locked up" in a secret storage in Switzerland. If Salvator Mundi was bought for $450 million, we can expect, on the open market, that the most famous painting in the world will be worth many times more. The French government, ad absurdum, could resell the painting, cashing in a staggerly high amount of money. But this will not happen, because the most expensive painting in the world not only has an invaluable status, but it also holds an immense "tourism value". To the French economy, the Mona Lisa is worth at least €3 billion yearly. It appears therefore fair to say that the Mona Lisa is an inestimable treasure that cannot be easily sold to the private sector.
The Mona Lisa, the most expensive art piece in existence, is therefore invaluable and will not be sold any time soon. In a similar manner, it is not possible to precisely estimate the value of many other masterpieces. The value of artworks by artists now considered masters is likely to be substantially different today compared to when the pieces initially appeared on the art market. For instance, Van Gogh - who is known to have sold only one painting in his lifetime, "The Red Vineyard", for 400 francs (approximately $2,000 dollars), was at the center of a private deal in 1989 and of a Christie's auction in 1990. His Portrait of Dr. Gachet (1890) was sold for $161.4 million (adjusted price in 2019). Poor Van Gogh, a master painter who died penniless!
The Mona Lisa's unique smile - rendered through perspective and sfumato technique - is perhaps laughing at this contemporary art market's speculative bubbles.
It is best therefore to focus on the value of artworks based on their past realized values at sale. Auctions, on the one hand, form the backbone of the art market. The prices settled upon at auctions are disclosed to the public. On the other hand, a significant amount of art deals are reached privately, with prices not systematically disclosed to the public.
Since Christie's auction in 1990, when Van Gogh's Dr. Gachet was sold, and in particular in recent years (the majority of the most expensive paintings sold at auctions have been sold after 2010), art market prices have risen exponentially. Some would say the prices have inflated beyond what is appropriate for particular artworks, but with the number of High Net Worth Individuals (HNWIs) rising across the globe, more of them turn to art as a means to spend their outrageous fortunes.
2021 Art Market Sales and Trends
According to the annual report of Artprice, the contemporary art market has recently marked a record-breaking $2.7 billion in sales between June 2020 and June 2021. After the dramatic shrinking in sales during the first half of 2020 due to Covid 19, the contemporary art market re-emerged stronger than ever. The pandemic era greatly facilitated not only the transition of a large part of the art sales to online auctions, giving an increase importance to purchases on online platforms, but also a shift in the kinds and formats of artworks buyers are willing to purchase. 2021 was the year of the explosion in popularity of NFTs (Non Fungible tokens): NFTs accounted for one-third of all online sales and over two percent of the overall art market. The second most expensive contemporary artwork sold this year is Beeple's NFT: "Everydays: The First 5,000 Days Beeple" (2021) that fetched $69.3 million. It was the first NFT ever sold at Christie's. The event was a landmark: 22 million people, 60% of them under 40, logged in to witness the first public sale of an NFT. The young age of the people involved in the event reflects a broader trend: more and more young collectors are shaping the art market.
The highest-selling contemporary artist of 2021 is Jean-Michel Basquiat, while at the third place we find the US-based Chinese artist Chen Danqing. His painting "Shepherds" (1980) broke a record for Chinese art, selling for $25.2 million at Poly Beijing Spring Auctions in June.
Looking at the broader art market, the sale that marked the first major auction of the year 2021 was the Renaissance artist Sandro Botticelli's Young Man Holding a Roundel, sold at Sotheby's New York for a record $92.2 million. The price achieved by "Young Man Holding a Roundel'' makes it not only one of the most valuable portraits of any era ever sold, but also the second most valuable Old Master painting to ever sell at an auction, second only to Leonardo da Vinci's Salvator Mundi. Another important record was reached this November, when a self-portrait of the beloved Mexican artist Frida Kahlo, "Diego and I", was sold for $34.9 million at Sotheby's auction. The sale marked an all-time high for a painting created by a Latin American artist.
If you are curious about the Art market's latest trends don't miss our article "2018's Artistic Highlights".
The Top 10 Most Expensive Paintings Ever Sold At Auctions
Here is a list of the 10 most expensive paintings ever sold at auctions. Many other artworks have been sold privately for more than some of the prices listed here (some notable cases of private sales for which the price is known are also mentioned in the list). All but one painting in this list were sold at either Christie's or Sotheby's New York. All prices are adjusted for inflation in 2020.
10. Edvard Munch "The Scream" (1895): $135.2 million
Sotheby's New York, May 2nd 2012
Munch's most famous creation, "The Scream" set a new world record when it was sold in 2012, knocking Picasso off the top spot. It was on display at the British Museum in April 2019, with many other of Munch's works and preliminary drawings on paper.
9. Pablo Picasso "Garçon à la pipe" (1905): $142.7 million
Sotheby's New York, May 2004.
"Garçon à la pipe" is an oil painting depicting a Parisian boy who holds a pipe and wears a garland, surrounded by flower decorations. It is the fifth most expensive painting by Picasso. The painting is a masterpiece, however its sale for such a high price sparked controversy in the art world. Art critics consider it as a "minor painting" of Picasso, yet it is a compelling artwork that is able to convey the immortal adolescent beauty.
8. Qi Baishi "Twelve Landscape Screens" (1925): $148.7 million
Beijing Poly Auction, December 2017
This painting is unique on our list: it is the only painting that was not sold by either Christie's or Sotheby's as well as the only one that was not sold in New York. "Twelve Landscape Screens", a collection of ink landscapes, set a new record for the most expensive piece of Chinese art sold at auctions worldwide. This is further proof of the growing wealth and influence of the Asian market.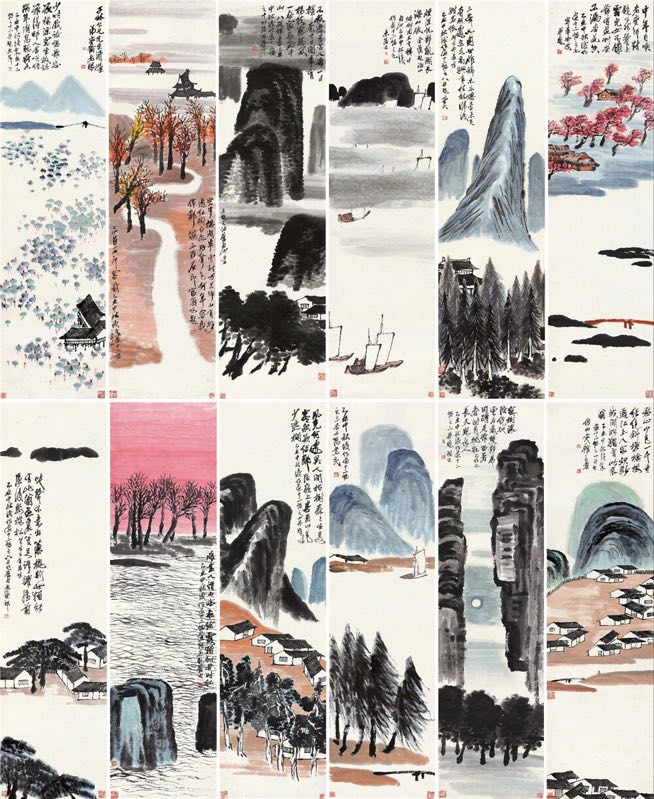 Read more about Chinese and Japanese landscape painting.
7. Pierre-Auguste Renoir "Bal du moulin de la Galette" (1876): $154.7 million
Sotheby's New York, May 1990
The painting is a smaller version of the identical picture exhibited at the Musèe d'Orsay in Paris. At the time of its sale it was one of the two most expensive artworks ever sold. It was purchased by Ryoei Saito, an honorary chairman of a paper factory in Japan. In 1991, Saito caused an international outrage when he declared that he wanted to cremate the painting with him when he died. After the severe financial difficulties of his company, the painting is believed to be in the (much safer) hands of a Swiss collector.
6. Francis Bacon "Three Studies of Lucian Freud" (1969): $158.2 million
Christie's New York, November 2013
"Three Studies of Lucian Freud" is another artwork that recently soared straight to the top of the most expensive list. The extraordinary value of this piece comes not only from Francis Bacon's own great reputation, but also from its great ability to capture his relationship with the subject: his great friend Lucian Freud.
5. Amedeo Modigliani "Nu couché (sur le côté gauche)" (1917): $162 million
Sotheby's New York, May 2018
Not to be confused with "No couché" (1917/18), which lies in third place in this very list, "Nu couché (sur le côté gauche)" is part of a series of nudes. It is the largest Modigliani's work, portraying a reclining female nude. The painting was exhibited in Modigliani's first and only solo show in Paris at the Galerie Berthe Weill. The show caused a huge scandal and the police were called to shut down the show. "Nu couché (sur le côté gauche)" was bought by Ezra and David Nahmad.
4. Van Gogh "Portrait of Dr. Gachet" (1890): $163.4 million
Christie's New York, May 1990
Despite arguments over its authenticity, one of the most revered paintings by the Dutch artist Van Gogh depicts Dr. Paul Gachet, who took care of the artist during the final months of his life. Sad but gentle, clear and intelligent, the doctor's melancholic face carries "the heartbroken expression of our time".
3. Amedeo Modigliani "Nu Couché" (1917/18): $186.1 million
Christie's New York, November 2015
Another Modigliani's painting from his famous series of nudes was awarded third place. The price set a world record for a Modigliani's nude. This painting was bought by a Chinese couple, Liu Yiqian and Wang Wei, for their private Museum in Shanghai. Fun fact: it is believed that the painting was bought by the couple using a credit card. Its sale reaffirmed the importance of nude as a subject matter of modernist artworks.
2. Pablo Picasso "Les Femmes d'Alger (Version O)" (1955): $195.8 million
Christie's New York, May 2015
As one might have been expected, one of the most expensive paintings ever sold in an auction was created by Picasso. His "Les Femmes d'Alger" was sold in 2015 setting the world-record price for an artwork at the time. It was bought by the former Qatari prime minister Hamad bin Jassim bin Jaber Al Thani. The painting, Version O, is the last painting of a series that Picasso created as a tribute to Eugène Delacroix, an artist that he profoundly admired. In particular, it is inspired by Delacroix's "The Women of Algiers in their Apartment" (1954).
As previously stated, there have been many paintings sold privately for higher prices than some of those on our list. So here are listed the few works, from some of the biggest names in art history, for which the valuation at their private sale is known and that would lie between number 2 and 1.
Rembrandt's "Pendant portraits of Maerten Soolmans and Oopjen Coppit" — $197 million
Mark Rothko's "No. 6 (Violet, Green and Red)" — $203 million
Gustav Klimt's "Wasserschlangen II" — 204.2 million
Jackson Pollock's "Number 17A" — $218 million
Paul Gauguin's "Nafea Faa Ipoipo (When Will You Marry?)" — $229 million
Paul Cézanne's "The Card Players" — $288 million
Willem de Kooning's "Interchange" — $328 million
1. Leonardo da Vinci "Salvator Mundi" (c. 1500): $475.4 million
Christie's New York, November 2017
Steeped in controversy, this sale set the art world alight at the end of 2017. "Salvator Mundi" not only broke all records, but also genuinely shocked people, for its unprecedented price tag. Due to go on display at the new Abu Dhabi Louvre last year, people are beginning to question its whereabouts as the wait for its display has been prolonged "indefinitely".
Cover image: Pablo Picasso "Les Femmes d'Alger (Version O)" 1955. Courtesy Artnews
Written by Francesca Allievi
Stay Tuned on Kooness magazine for more exciting news from the art world.