In recent years, the trend to document and romanticise the lives of artists on the silver screen has produced wonderful character studies of some of the most famous names from art history. We have seen Timothy Spall transform into JMW Turner, Antonio Banderas take on the mantle of Picasso, and most recently Willem Dafoe became Vincent van Gogh in Julian Schnabel's heartfelt film, At Eternity's Gate.
To read more about Julian Schanbel and his work as both painter and film maker, follow here! It would then stand as no surprise if an aspiring writer, stumbling across a perhaps lesser known figure from the French Avant Guard movement, soon saw huge potential to adapt the life of Maurice Utrillo into a psycho-analytical, thrilling, family drama, set against the bohemian bubble of 20th Century pre-war Paris. The artist's life was beset by heavy alcoholism and mental illness, perhaps due to never knowing who his father was, yet he found solace through his astonishing gift for painting.
Maurice Utrillo's peculiar childhood started in 1883, when he was born on Christmas day nearby the church of Notre-Dame de Clignancourt. He would return many times in his life to paint this building, often for his mother who had a strong affinity with the local community and who helped to maintain the church throughout the years. His mother was perhaps the most important figure in Utrillo's life, both through her contacts as an artist herself and because her art lessons to him were the only formal training he ever received.
Suzanne Valadon, an aspiring acrobat but who injured herself in a trapeze fall, turned to modelling at a young age and would often sit for many of the leading artists of the day – Degas, Renoir, Toulouse-Lautrec and Morisot. A pragmatic woman, she didn't squander this opportunity and she was soon learning how to paint from the greats. When she was only 18, Maurice was born and the question of his paternity still lingers to this day. Diego Rivera recounts this, almost infamous, anecdote in the memoirs of the American collector Ruth Bakwin, to explain how Maurice Utrillo gained a legitimate surname...
"After Maurice was born illegitimately to Suzanne Valadon, she went to Renoir, for whom she had modelled nine months previously. Renoir looked at the baby and said, 'He can't be mine, the colour is terrible!' Next she went to Degas, for whom she had also modelled. He said, 'He can't be mine, the form is terrible!' At a cafe, Valadon saw an artist she knew named Utrillo, to whom she spilled her woes. The man told her to call the baby Utrillo: "I would be glad to put my name to the work of either Renoir or Degas!'"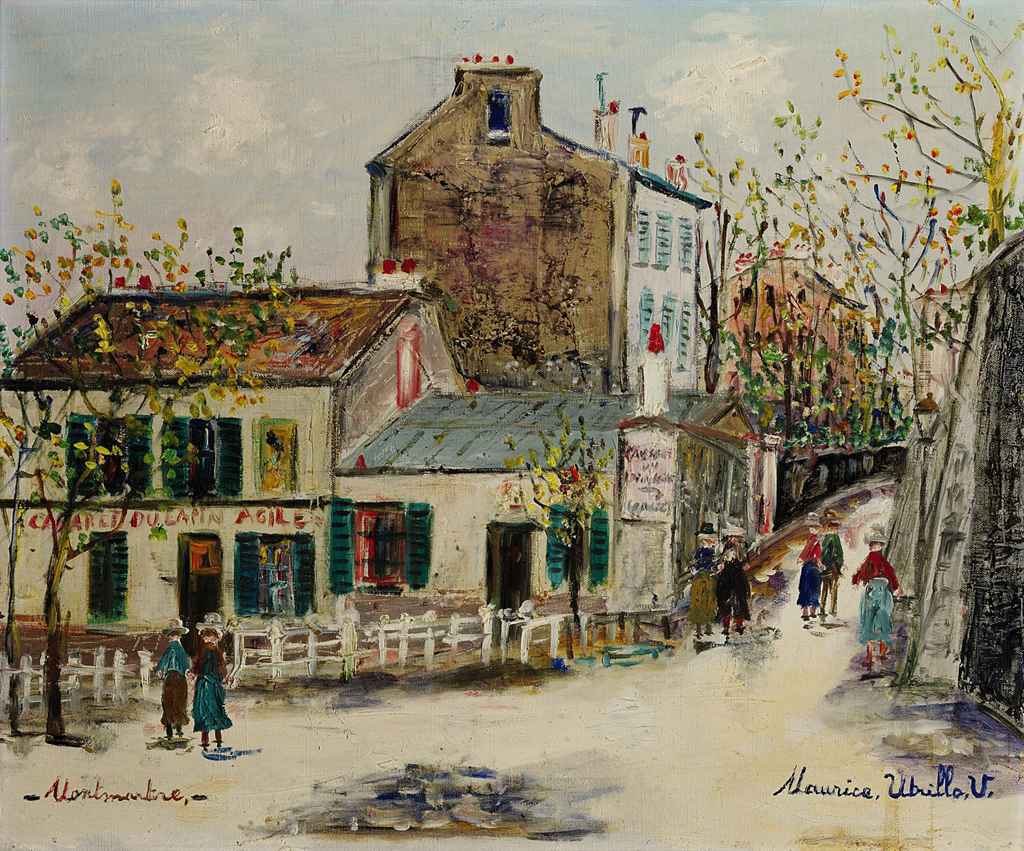 Whoever the real father, in 1891 the Spanish artist Miguel Utrillo y Molins did sign legal papers claiming paternity, and therefore Valadon became Utrillo. In 1904, aged 21, the signs of Utrillo's alcohol addiction became insurmountably obvious, and it was at this late stage of development that his mother Suzanne began to give him art lessons to provide a distraction and escape from his internal struggles. All he had ever known was life in Montmartre, so this became his natural subject matter, the suburban scenery providing variances of light, shadow, geometry and perspective for him to play with. Read more about the history of the first avant-garde movements...
Very quickly his natural ability shone through his work, and by 1910 he was exhibiting in the highly regarded Salone d'Automne. He was fortunate, both to have been born into the heart of the European Art scene, and to exploit his mother's involvement in the contemporary artistic circles, meaning that they both had their finger on the pulse of the latest ideas and trends. A favourite rendezvous of theirs was the Lapin Agile, a small bar and cabaret on the corner of Rue des Saules, made famous by the numerous amounts of artists who would both frequent it and paint it afterwards. Picasso's Au Lapin Agile is a particular highlight of these, but Utrillo also painted many versions of the inn, with some of the images so similar to each other that it is unsure whether he was painting from real life, his own previous paintings or postcards.
Utrillo's tendency to work not from real life, but often copying postcards, stems from the regular intervals he spent in hospitals or mental institutions, thereby unable to get out and about exploring the streets as he once did. His alcoholism never left him and even though this dependency on drugs and alcohol did not end his life prematurely, such as it did with his friend Modigliani's, his was an existence that did not live up to the expectations one might have of a thriving Parisian artist.
His success came later, after he had spent much time associated with an artistic group called, not by choice, Les Maudits or The Cursed Ones. The group took its name from a pun on Modigliani's nickname "Modi", and included him and Utrillo as well as Utrillo's mother Suzanne Valadon, Chaim Soutine and Andre Derain among others. Their pioneering talent would be mostly realised retrospectively, but the Paris School owes much to their push for modernism and further into expressionism. Their "cursed" status evolved from initial, negative, critical reaction to their work combined with the noticeably impoverished lives they were living – Utrillo and Modigliani's alcoholism and drug abuse respectively did much to tarnish their reputation. Riding the wave of European modernism into the 20th Century was no yellow brick road, and left many churned up in its wake.
Read more about the lives of other ground breaking, 20th Century artists, such as Louise Bourgeois, Giorgio de Chirico or Sonia Delaunay!
Thanks to his mother, however, art continued to be Utrillo's salvation and his unhoned talents were surprisingly adept at accommodating many different styles of post-impressionist painting. The influence of Cezanne and early notions of cubism led him to move into a flat, structured and geometric technique, which when combined with historically impressionist subject matter like Notre Dame Cathedral (Monet's Rouen Cathedral series had been exhibited in Paris in 1895 so Utrillo would almost certainly have seen it) signalled that his modern art had clearly moved on from Impressionism.
In this way, his tendency to work from postcards would have only enhanced his focus on flat geometries and shapes of colour, as the depth of real life had already been translated into a two-dimensional form for him to base his paintings on. Perhaps his best work was during what is known as his "white period", 1912-14, when he would work impasto with paint mixed with local plaster onto the board with a palette knife.
Utrillo's reputation would only grow, and by the start of the 1920's he had attracted international attention. In 1928 he was awarded the Cross of the Legion of Honour from the French Government, and in 1930 was included in his first exhibition at MoMA, New York. He married late, at the age of 52, and a couple of years after that his mother Suzanne died of a stroke, her funeral attended by friends and colleagues such as Picasso, Derain and Braque. Utrillo would continue to paint, growing ever more reclusive in his old age and still with frequent trips to hospital, until his own death in 1955. The life of this troubled soul had often been an uphill struggle, but his natural talents had kept him on track and it must have been rewarding for him to be able to look back on his life with a sense of pride and achievement. It looks like any film adaption of Maurice Utrillo's life would have a happy ending after all.
Stay Tuned on Kooness magazine for more exciting news from the art world.